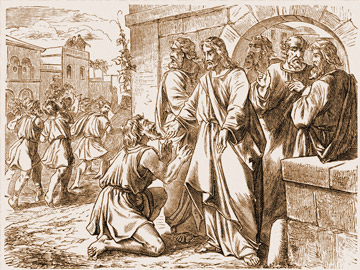 Ten lepers at the village gate
Each waited for the Master's word
He had the power to change their fate
His fame through every town was heard.

So anxiously they saw Him now,
Each hoping, pleading in his soul
That He would notice them somehow
And through His mercy make them whole.

Thank you Lord, for all you've done
Forgive me when I'm not the one.

He looked on them considered least
And off'ring them the thing they willed
Said, "Show yourselves unto the priest,
If ye believe, ye shall be healed."

They went and did as He had asked
Believing in the Master's power
And though a small and simple task
They were made whole that self-same hour.

Thank you Lord, for all you've done
Help me please to be the one.


Their joy was indescribable
Feeling freedom now obtained
The thought seemed most impossible
To live with those they loved again.

Yet one of them though like the rest
So hungering, for kin and friends,
Still,
Felt sweet love swell in his breast
For He who had the power to cleanse.

Thank you Lord, for all you've done
Strengthen me to be the one.


He turned and found the Son of God
And knelt down humbly at His feet.
"I thank thee Lord," he humbly sobbed
"I thank thee for thy love so sweet"

The great Lord looked upon the man,
Said happily,
"Thy joy is mine."
And then He asked, "Were there not ten?
Where are the other nine?"

Thank you Lord, for all you've done
I pray that I can be the one.